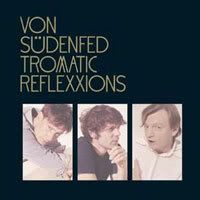 Von Südenfed - Tromatic Reflexxions
At this moment in time, I'm about 97% sure that the new Fall album completely fucking blows. Get this one instead.
It's basically Mark E. Smith talking over fun little electronic ditties constructed by Mouse on Mars. Pitchfork will probably give it a 7.3 or something... OH SHIT, you know what just happened? I wasn't sure whether or not they had actually reviewed the album, so I went over to the P-Fork site, see, just for a little fact checkin', see, and lo and behold, you need to type in the umlauts to get results for these guys. And they gave the album a 7.0! Off by .3, yeah, but fuck, am I good.
Anyways, that's about what this album is. A solid 7.0. It's not bad by any means, but in the end, the record isn't exactly much more than, well, Mark E. Smith talking over fun little electronic ditties constructed by Mouse on Mars. Not too many completely revelatory hooks or anything like that. Perfectly pleasing to listen to, though.
In 1997, the Fall released an album called
Levitate
that presented the very ESSENCE of Mark's skewed, incomprehensible vision as IDM/breakbeat/electronica whatever. Mark produced it himself, see, so the studio effects and edits and things like that are all just totally fucking out there, like This Heat or
Meet The Residents
or something. The songs ruled, too... some of the best of MES's career. The songs on
Tromatic Reflexxions
aren't as good as the ones on that album, and the production, regardless of how much one enjoys
Audiotacker
or other Mouse on Mars albums, isn't that much more or less exciting than your average music with bleeps and bloops and beatz or whatever.
Hey, fuck, remember when I was talking about Pitchfork eariler? They do this thing where they'll review an album like the new Pissed Jeans, give it some 8.something grade, and throw it under "recommended," and fuck, you know, where were they for
Shallow
? They never even reviewed the damn thing! And it's a lot better than this new one, and thanks to Pitchfork (and to the occasionally amazing genre of scuzzy Scratch Acid-inspired noise rock being fairly off their radar), the overbearing rock canon may or may not just completely forget about it, and that's mighty unfortunate! I mean, sure, realistically, it's not likely that
Hope For Men
is going to become some fuckin'
Daydream Nation
level acclaimed masterpiece, but man, where the fuck was P-Fork when these guys actually served up a classic, huh? The same thing happened with the Knife! For three years, no one gave a fuck about
Deep Cuts
, this brilliant fucking pop record, and then suddenly
Silent Shout
is the Album of the Year. Such bullshit.
Rating:
When all is said and done, this album is a side project that maybe amounts to slightly more than the sum of its parts... but not much more. Just a pleasant little thing. More than half the time of this review that was actually spent talking about the album in question is just saying the exact same thing in two different parts of the review. How about this for high concept journalism. Fuck you.
Song:
"Fledermaus Can't Get Enough"
... the first song. And it's the best one, too.