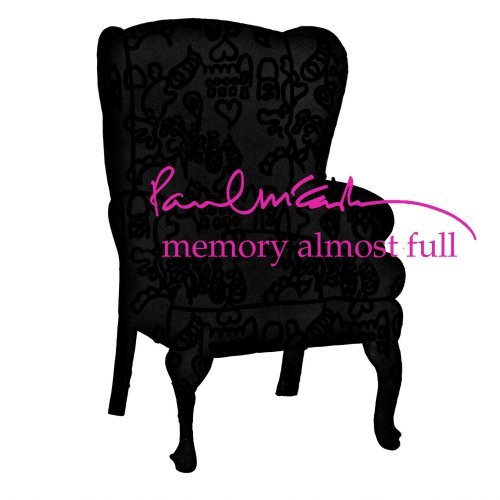 Paul McCartney - Memory Almost Full
DID YOU KNOW that exactly one year ago today, Dan published the first Solid Little Rock Jams album review EVER? And it was FUCKING
MCCARTNEY
???!?!!! WHAT THE FUCK!!!!!!! FUCKING "KREEN-AKORE"!!!!! GREAT ALBUM OR GREATEST ALBUM, SERIOUSLY?????!!!
Anyways, about a month ago, some handsome devil over here had the bright idea to review all of (well, the
rest
of) the McCartney albums, and in the middle of it, some fucking asshole cuntface realized that with some fine tweaking, we would be able to make the final McCartney review line up with the one year anniversary of SLRJ, which JUST SO HAPPENS to have been the first Paul McCartney album! So how 'bout that for some shit.
This is the new Paul McCartney album! You know what, earlier this year, I wasn't actually interested in hearing this album. Then it suddenly occurred to me that this thing is the NEW PAUL MCCARTNEY ALBUM. I mean, seriously. Paul McCartney. Paul fucking McCartney. This guy knows a thing or two about writing awesome songs, right? Yes, yes he does. Why would anybody deny that. I have not a clue, no.
Paul is an old person, but this is not old people music. Paul is better than that. He's not some shitty guy like Sting or Eric Clapton or somebody. He's Paul fucking McCartney, okay? This is just an album of awesomely assembled pop song things, a lot of which have ass-fuckingly gorgeous melodies. The three song run of "Ever Present Past," "See Your Sunshine," and "Only Mama Knows" absolutely slays me. "Ever Present Past" is the single, right? This song is wonderful. Why are these songs so fucking angry-sounding? Seriously, this and
Driving Rain
are just totally brutal. And that makes sense because he started this record before
Chaos & Creation
. What the fuck was he so angry about? Maybe I'm totally off with calling this stuff "angry," but all of these minor key melodies and pissed-off rockers like "Only Mama Knows"... what's going on here? What happened to "How Kind of You" and "English Tea" and all that stuff on the last album? They were such McCartney songs, those. There's a lot of weird shit on here. I mean, some of the hooks are really immediate, but Paul seems more concerned with rocking the fuck out or showering us with vocoder harmonies or being a weird artsy prick with "Mr. Bellamy"... not so much cutesiness here, huh.
Rating:
IT'S ALMOST MIDNIGHT AND I NEED TO WRAP THIS UP. THIS ALBUM IS WORTH YOUR TIME. IT'S DIFFERENT. PAUL MCCARTNEY IS A GENIUS AND NOT SHITTY. LISTEN TO ALL OF HIS ALBUMS EXCEPT FOR
PIPES OF PEACE
,
FLOWERS IN THE DIRT
, and
OFF THE GROUND
, WHICH ARE ALL HORRIBLE.
Song:
"Ever Present Past"
... single of the year, right. Right.